While browsing the internet looking for resources on John Bunyan (who happens to be the Puritan of the month), I came across something I found quite fascinating. Check it out: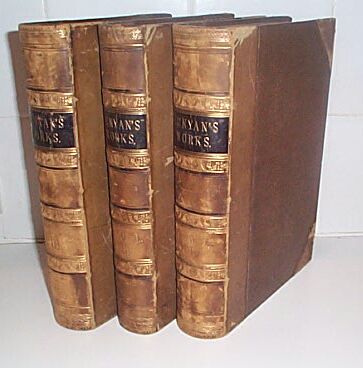 According to dking.org.uk, they are selling a first edition of Bunyan's Works for a measly price of only 585.00 GBP (pounds). According to the current exchange rates, that is roughly $1155.00 in American dollars. Here's the detail info they have provided:
Author Name: Bunyan, John
Title: The Works of John Bunyan in 3 Vols
Binding: Full-Leather
Book Condition: Very Good
Size: 4to – over 9¾" – 12″ tall
Publisher: London Blackie 1862
Description: No marks or inscriptions. Gilt lettering to spine. Nice and clean internally and externally. The Whole Works of John Bunyan, accurately reprinted from the authors own editions with editorial prefaces, notes and life of Bunyan by George Offer Esq. Tissue guarded frontis. Numerous illustrative engravings. A most impressive set. A heavy set. First edition means first edition, first printing, unless otherwise clearly stated.
In case you might be wondering, no, this will not be the giveaway this month. Sorry to get your hopes up, but perhaps one of you out there might be sitting on oh a thousand or so dollars and dying to get your hands on the first edition of Bunyan's Works. So there, my public service announcement for the week. 🙂